Mike Sheridan & Jakob Riis. Sequential Spaces
2018/9/15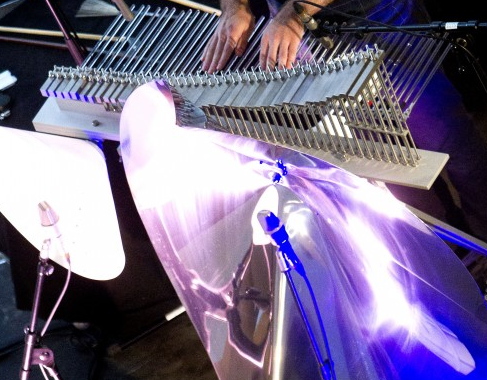 Saturday, September 15th, 19:30
Inter Arts Center, Red Room
Bergsgatan 29
Malmö, Sweden
Mike Sheridan and Jakob Riis will conclude a two weeks recidency at Inter Arts Center in Malmö with a concert in the Red Room.
The project Sequential Spaces​ are focused around the exploration of the unique glass instrumet Christal Bascet in an interactive set-up with digital electronics and spatial sound. The music are being developed by the two musicians/composers in a joint investigative work of the instrument Cristal Baschet, in combination with electronic sound processsing techniques developed specifically for this project.
The glass instrument Cristal Bachet originated in the French musique concrète tradition, with the Sequential Spaces project aiming to get into the core of this instrument. As a sculptural manifestation of materials, processes and techniques; glass, metal and membranes on top of each other and immersed in strong and suggestive universes of sound with porous walls.
The instrument Cristal Baschet was developed in the 1950s by the two French instrument makers Bernard and François Baschet. A rare instrument which Mike Sheridan is one of the few who plays. The sound in the instrument are generated from 42 glass bars mounted on metal and amplified in resonant metal and glass fiber membranes.
Code for entrance and elevator: 2153
Free entrance