Intonal at IAC: Nguyễn Thanh Thủy
2019/4/26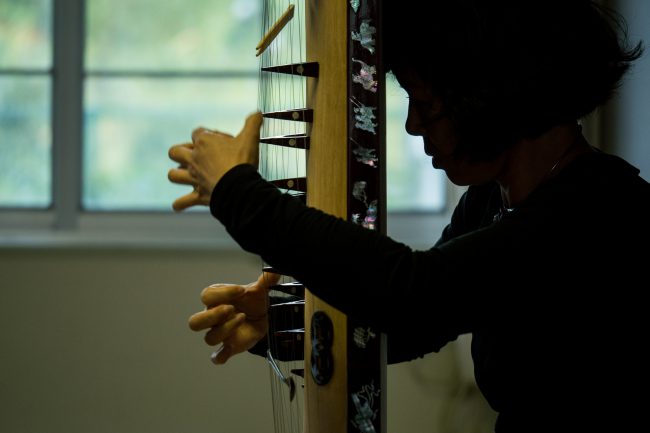 Friday 26 april 19:00
Inter Arts Center, Red Room
Bergsgatan 29, Malmö
As a part of this years Intonal concerts at Inter Arts Center, Nguyễn Thanh Thủy has commissioned new pieces for đàn tranh/guzheng with electronics. The collaborative nature of these works aim to create imaginative and novel soundworlds through different approaches to instrumental playing techniques and signal processing. There will be two world premiere pieces from composers Lương Huệ Trinh (VN) and Kent Olofsson (SE), as well as a performance of a piece by composer Jakob Riis (DK/SE).
Into the White – Jakob Riis (20 mins)
Móng Hường (world premiere) – Lương Huệ Trinh (10 mins)
Black Madonnas (world premiere) – Kent Olofsson (20 mins)
Nguyễn Thanh Thủy is a leading đàn tranh player / improviser in both traditional and experimental music. She was born into a theatre family and was raised with traditional Vietnamese music from an early age in Hà Nội. She studied at the Hanoi Conservatory of Music where she received her diploma in 1998, followed by a Master of Arts at the Institute of Cultural Studies in 2003. She has toured in Asia, Europe, the USA. She has received many distinctions included the First Prize and the Outstanding Traditional Music Performer Prize in the National Competition of Zither Talents in 1998. Nguyễn Thanh Thủy has recorded several CD's as soloist with orchestra and solo CDs and works with many composers around the world.
http://www.iac.lu.se/events/intonal-at-iac-nguyen-thanh-thuy-lisa-stenberg/
http://www.intonalfestival.com/