Det kommer främmande - The Barrier Orchestra
2021/06/11+12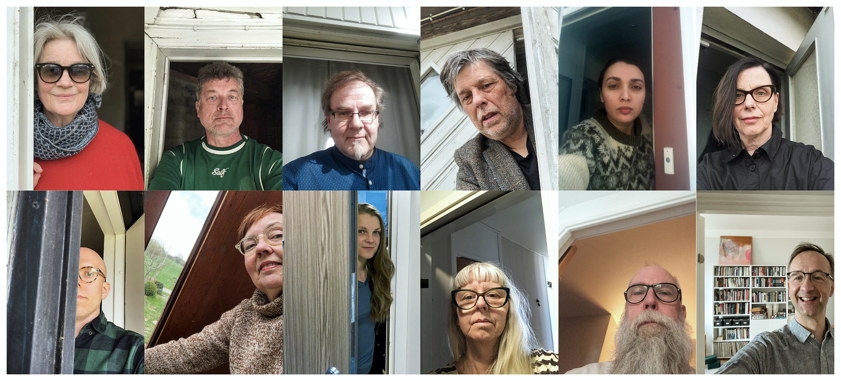 Friday june 11th 19:00
Saturday june 12th 12:00
Folkhemmet, Hoby Kyrkplan 6, 276 36 Borrby
A performance concert where the composition follows a chain of events arising from the swedish expression "det kommer främmande" (we will have guests/strangers). These events are shaped in different figurations, both musically, in pictures, in film and in the staging.
Performance IRL at Folkhemmet and simultaneous livestreaming at https://schhh.se
The Nordic Barrier Orchestra concists of 12 musicians and artists from various areas like classical music, electronic, improvisation and sound art.
Cast:
Petri Kuljuntausta, el. guitar (FI)
Mikko Raasakka, clarinet (FI)
Linn Persson, saxophone (SE)
Jakob Riis, trombone, live-elektronics (DK/SE)
Anna Lindal, violin (SE)
Hanan Benammar, violin (FR/NO)
Lise-Lotte Norelius, percssion , live-elektronics (SE)
Jørgen Teller, el. guitar (DK)
Ann Rosén, composer, live-elektronics (SE)
Fabian Svensson, composer, melodica (SE)
Gunnel Pettersson, performative visuals (SE)
Sten-Olof Hellström, composer, sound and image direction (SE)
Tickets: 200 kr
Students: 50 kr
Booking: https://schhh.se/biljettbokning/
Presented by Schhh - Vardagsrummet: https://schhh.se/det-kommer-frammande/